Discover Your Creative Voice
An Inspiring Journey Through Portugal
Join us in the land of tile frescoed buildings as we set off on a journey to get inspired! Explore the national tile museum with one of the largest collections of tile and mosaics in the world, discover ancient palaces steeped in history, visit a century-old textile factory in the heart of the countryside and weave your way through artisan markets! 
Along the way, we'll lead you through creative prompts as we take time to sketch and draw inspiration from the beautiful places we visit. Our talented guest artist Kara Aina will share all her tips on how to "art on the go" and has designed custom workshops just for us from her signature watercolor florals to Portuguese patterns and landscapes!
This journey is for anyone looking to explore their creative side and all of our activities and workshops are for beginners and seasoned artists alike! No Art experience necessary!
Our adventure begins in the diverse city of Lisbon where we'll tour the old town with all its history, visit a vibrant women's art collective in the heart of the city and learn how to paint keepsake traditional tiles, the perfect souvenir! Speaking of tile, did we mention that we'll be visiting the National Tile Museum?! Portugal is famous across the globe for its decorative tiles and you'll have the chance to dive into one of the largest collections of tiles and mosaics in the world!
Our journey continues to the eccentric town of Sintra famous for its eclectic palaces and botanical gardens and we'll get to explore both the Pena Palace and the Monserrate Palace with time to sketch and art journal while surrounded by nature.
Next we'll travel to the countryside and the historic town of Evora known for its small authentic feel and medieval ruins. We'll explore its artisan markets along with a special visit to the Fábrica Alentejana de Lanifícios, a century-old textile factory where the traditional Alentejo blankets and rugs are handwoven on giant looms operated by trained weavers.
The charming Casa do Governador with its beautiful casitas set among the vineyards will be our home base as we explore all the countryside has to offer.
Day trips to neighboring villages famous for their traditional pottery, tastings at local organic vineyards to sample the wines of the Alejento region, exploration of Evora with a local guide along with chef-prepared meals and a cooking class highlight our stay.
If you've been looking to take some time for yourself to reconnect and explore your creative side with an awesome group of women, consider this your invitation!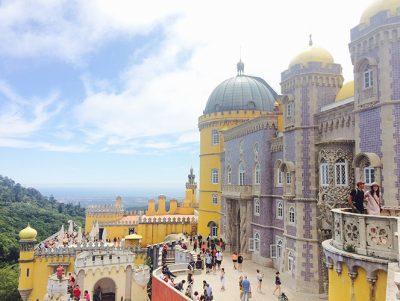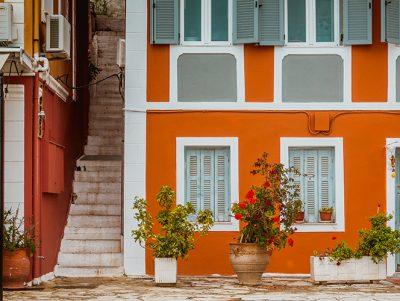 Ok, can we just discuss how crazy stressful the last couple of years have been?! You deserve to take some space for yourself, that's right! Not the kids, family, or your job, but something just for you! So buckle up buttercup cause we're offering an adventure to reset and explore your best self… It's more than a retreat, it's an experience, so let's loosen up, get inspired, and above all have fun!
Come Wander with us!
A peek into our adventure!
We'll be staying at two awesome properties during our journey. The Hotel Ouro is a bright and cheery boutique hotel brimming with history and located right in the Old Town of Lisbon. The ideal location for exploring or simply enjoying a glass of wine and people watching. 
Next, we'll be traveling to a beautiful Farm Stay in the countryside, the Casa do Governador. Set among the vineyards with horses and charming rooms, the estate spans over 20 hectares and includes several quiet spaces to relax as well as a pool to cool off in after a day of exploring!
Meet our Guest Artist
Meet Kara Aina! Kara is known for her beautiful watercolor florals and oil still life paintings. A Minted.com featured artist, with various licensing collaborations from TJ Maxx to Target, she's taught numerous workshops from West Elm to the Natural History Museum of Utah!
She loves painting both big and small and with over 15 years of teaching, can't wait to share her knowledge with a new group of ladies!
Meet our Featured Local Artists
Meet Pandemonio Studio! A women's art collective in the heart of Lisbon Pandemonio studio consists of four women artisans whose work is colorful, lively, and spans multiple media including beautiful mural installations throughout the city! We'll enjoy a behind-the-scenes studio tour and hear about the inspiration behind their beautiful and vibrant work.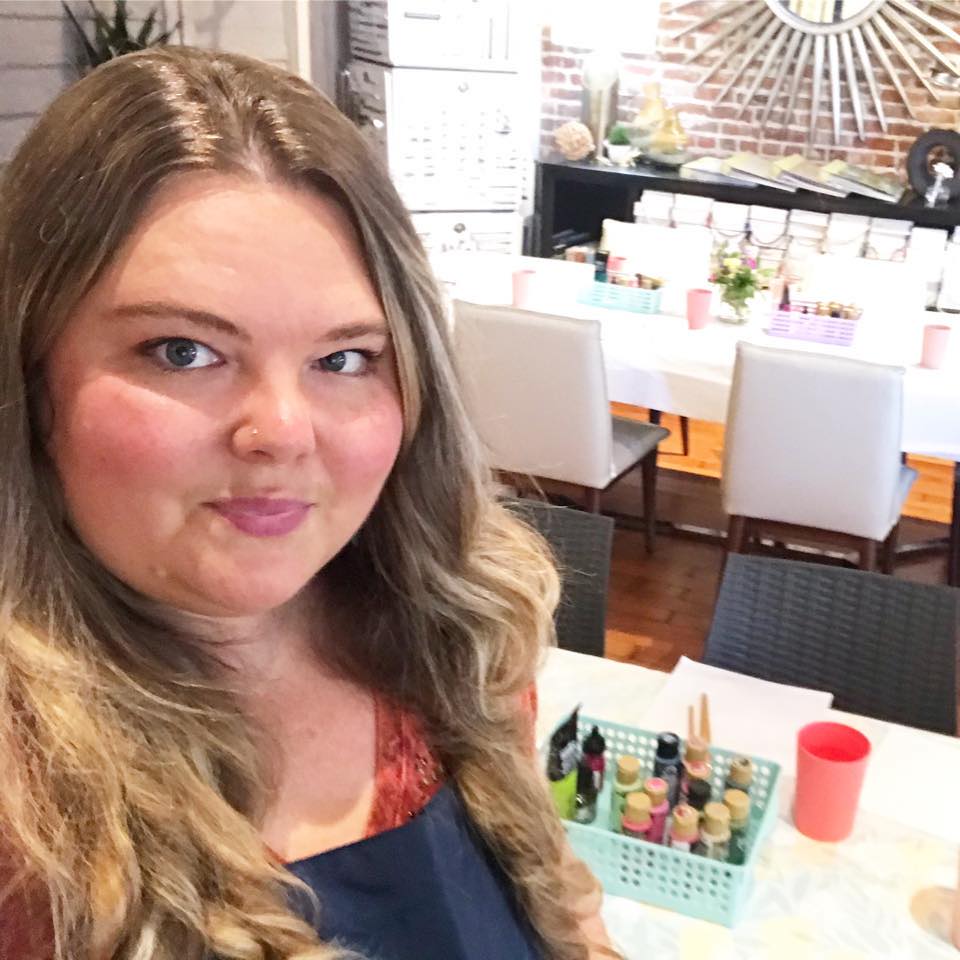 Hi Everyone! Cassie here, founder of Wandering Women Retreats and art and travel lover!
I can't tell you how excited I am to share Portugal with an awesome group of gals! With over a decade of experience in the travel industry and as a professional artist, it's been a long-time dream to merge the two and offer unforgettable journeys that both nurture your creative side and immerse you in local culture. 
I've cooked up a seriously dreamy itinerary that has a taste of it all! We'll not only be visiting different regions throughout Portugal but with creative workshops, amazing day trips, and cooking classes, this retreat is chock full of inspiration! 
So join me in the land of tile frescoed buildings for the adventure of a lifetime!
Our Itinerary
Day 1 :

Arrival & Welcome Dinner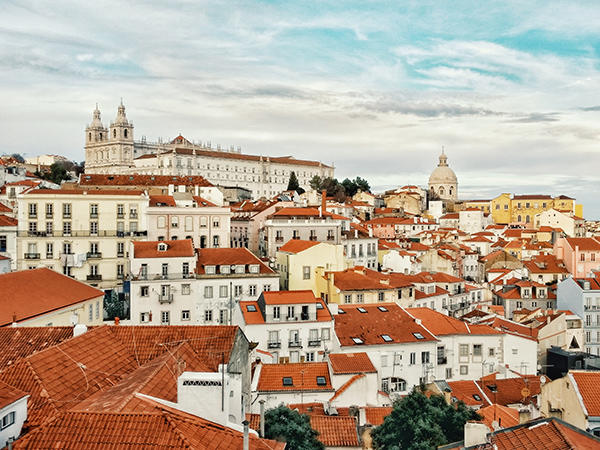 Arrival in Lisbon, group transportation to get you from the airport to the hotel will be provided. Check-in, get refreshed!
Our boutique hotel is located right in the historic old town of Lisbon and is the perfect place to explore from! In the evening we'll meet for an opening circle and Welcome Dinner.
Day 2:

Walking Tour of Lisbon,Tile Painting Workshop, National Tile Museum, Art Journaling/ Watercolor Postcards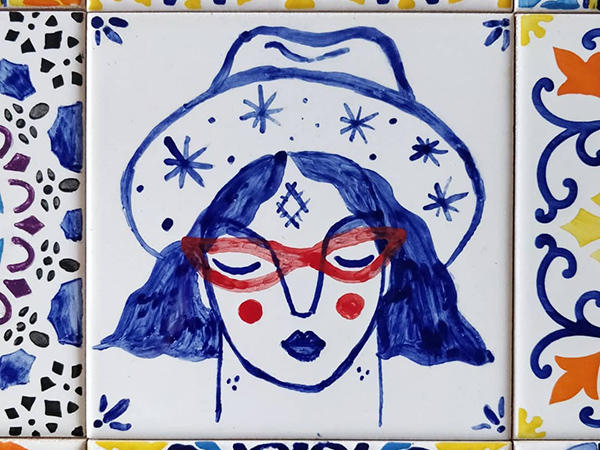 Opening circle followed by a private walking tour of the city. Find out all about Lisbon and its hidden gems and unique history.
After exploring we'll head over to a local tile shop where we'll be making our very own Portuguese tiles! Learn traditional patterns and designs and create your very own tile to be fired in the kiln and taken home.
We'll break for lunch and in the afternoon we'll tour the National Tile Museum! Housed in a 15th-century convent the museum is home to one of the largest collections of decorative tiles in the world.
After resting from a day of exploring, meet us for an evening cocktail and postcard party as Kara goes over tips for sketching out the day's inspirations into beautiful watercolor postcards!
Day 3:

Art Studio Tour, Day trip to Sintra, Botanical Watercolor Class,Pena Palace, Monserrate Palace and Botanical Gardens
We'll start our day off on a colorful note with a visit to Pandemenio Studio – a women's art collective in the heart of Lisbon where they'll give us a private studio tour and the inspiration behind their vibrant work.
Next, we'll journey to the magical town of Sintra where we'll explore the eccentric Pena Palace. A World Heritage site, Pena Palace is perched atop the hills with sweeping views of Sintra and is famous for its funky and dazzling array of architecture.
We'll also be making a stop at the ornate Monserrate Palace & Botanical Gardens where our guest artist Kara will teach us all the techniques of her signature watercolor botanicals and florals. We'll soak in all the inspiration with time to sketch and art journal while surrounded by nature.
Day 4:

Free day to explore the city as you wish!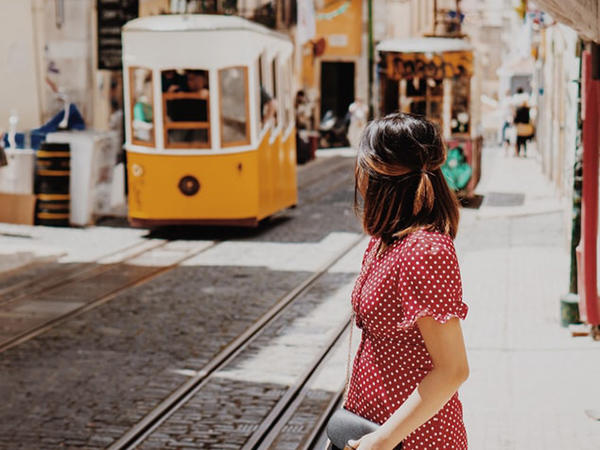 Explore the city at your own pace. Enjoy a spontaneous adventure or choose from one of many suggestions such as art galleries, antique and artisan markets.
From the oceanfront to the classic cable cars, cafes, and bakeries to pottery shops, there's something to discover around every corner!
Day 5:

Travel to the countryside of Evora, Walking Tour, visit to

Fábrica Alentejana de Lanifícios and Artisan Markets, Watercolor Workshop,

Chef's Dinner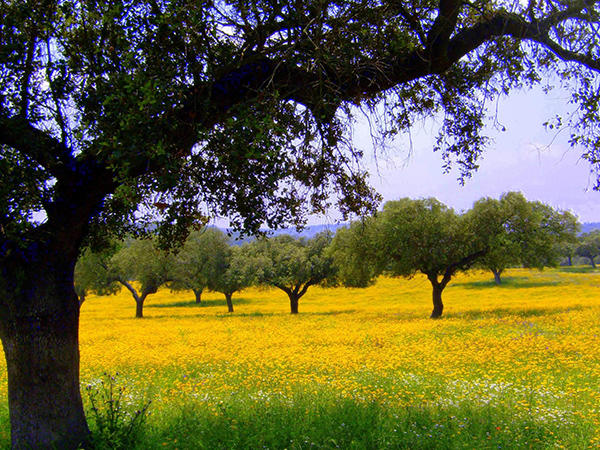 Our journey continues to the historic town of Evora, one of Portugal's most beautifully preserved medieval towns. A UNESCO world heritage site, Évora is an enchanting place to delve into the past! We'll have a private guide show us its hidden treasures.
Next, we'll explore the artisan markets and visit the Fábrica Alentejana de Lanifícios, a century-old textile factory where the traditional Alentejo blankets and rugs are handwoven on giant looms operated by trained weavers.
We'll check into our private oasis, the Casa do Governador, a farm-stay set in the countryside and surrounded by vineyards. Relax poolside, pet the animals and enjoy the afternoon as you please.
We'll have a sunset painting session and break out all the colors of the rainbow focusing on the vibrant textiles of the region. In the evening a private chef will come out and create a 5-course meal of local delicacies.
Day 6:

Day trip to Monsaraz, Artisan Markets, Wine Tasting, and Dinner in town.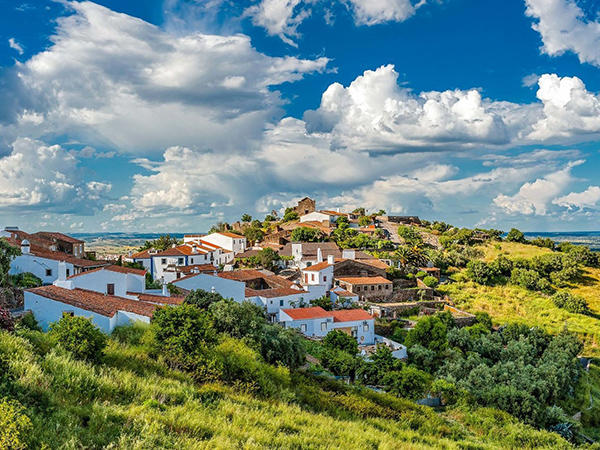 We'll head out to the picturesque town of Monsaraz, a walled city set upon a hilltop. Monsaraz is a charming village perched high above the River Guadiana close to the frontier with Spain and is one of the most atmospheric places in the entire Alentejo region.
With its narrow cobbled lanes, red-tiled roofs, and striking picture-book castle, you can feel the true essence of medieval Portugal in one of the oldest places in southern Europe. Enjoy a stroll through the village with plenty of time to shop from local artisans famous for their pottery and more!
Along the way, we'll stop in at an organic farm and vineyard. We'll have a private tasting and drink in the Alentejo region's fine wines. We'll end this magical day with a special dinner at a restaurant in the heart of Evora.
Day 7:

Free time, Cooking Class,Watercolor Workshop, Farewell Dinner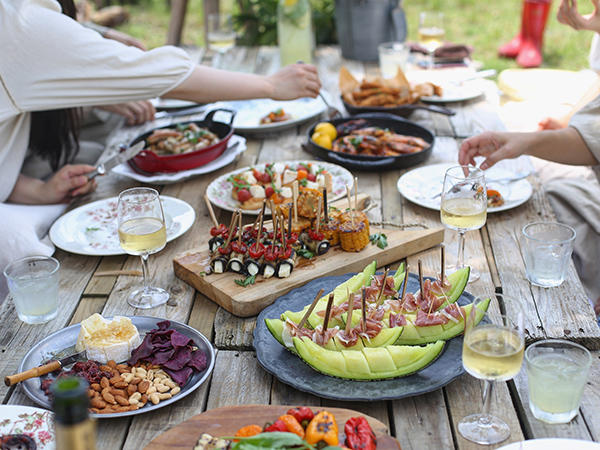 Free morning to relax, explore as you wish, and enjoy the estate. In the afternoon we'll have a cooking class where we'll learn to make some traditional Portuguese dishes, followed by a family-style lunch.
We'll have our last creative session and explore watercolor landscapes taking inspiration from the Evora countryside.
In the evening we'll have a closing circle and sharing of our art journals along with our favorite takeaways. A chef will come out to prepare us a farewell dinner at our farm-stay.
Day 8:

Breakfast & Departure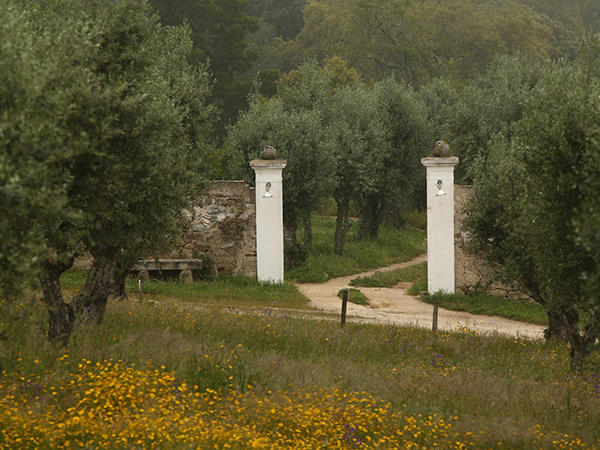 We'll share one last opening circle and breakfast together before departing for the airport. Remember to stay in touch with your new creative besties and we hope you Wander with Us on our next adventure!
PLEASE NOTE: THIS IS OUR PROSPECTIVE ITINERARY. SMALL CHANGES MAY BE MADE DUE TO WEATHER, DESIRES OF THE GROUP AND UNEXPECTED OPPORTUNITIES
(such as spontaneous adventures, can we say heck ya?!)

  Our retreats aren't just about the wonderful things we'll see and do but about building relationships, that's why we like to keep our groups small and intimate. This enables us to travel like a local and have an inside look at all the region has to offer!  This retreat is limited to 8 guests.
Cost: Double Occupancy $3895 | Single occupancy $4395
(Airfare not included)
* Our Travel Affiliate Journey of the Spirit will be handling deposits and payments
A $750 Non -Refundable deposit is required to hold your spot balance due by February 7th, 2022. Payment plans are available please see our FAQ below. Once we receive your deposit we will be in touch with all the fun details along with updates and travel tips as needed!
This Retreat is SOLD OUT!
WHAT DOES THE COST COVER?
7-night accommodations
Group Airport Transfers and transportation to and from all destinations/activities
Intimate group limited to 6-12 women
Tips for our guides, drivers
Daily breakfast
4 Dinners ( Welcome Dinner, Restaurant Dinner and two private Chef's dinners)
Private Portuguese Cooking Class with Lunch
Private Walking Tour of Lisbon
Tile Painting Class
Entrance to National Tile Museum
Day trip to Sintra
Entrance to Pena Palace
Entrance to Monserrate Palace & Botanical Gardens
Private Walking Tour of Evora
Wine Tasting and Vineyard Tour
Day trip to Monsaraz
Entrance to Fábrica Alentejana de Lanifícios
Four  Watercolor Workshops ( Watercolor Postcards, Botanicals and Florals, Portuguese Patterns and Evora Landscapes) 

with guest artist

Kara Aina
Daily Art Exercises

and journaling prompts to get your creative juices flowing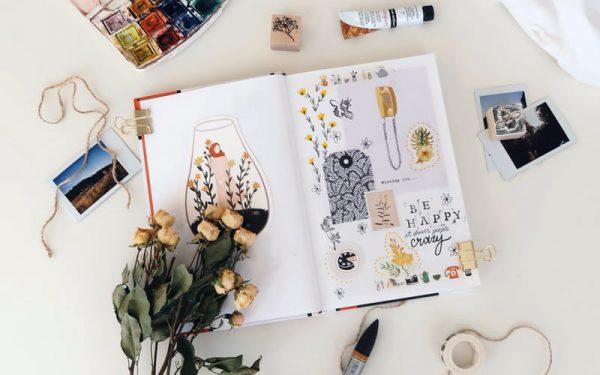 Sweet Extras
A private Facebook Group so you can get to know your fellow

A curated bag of goodies, aka the most amazing swag bag ever, including art and local Portuguese finds!
A Concierge Travel Specialist should you need any assistance with flights or travel outside the retreat dates
WHAT ISN'T COVERED IN THE COST?
Airfare from your hometown to Lisbon
Any meals not listed in the itinerary
Travelers Insurance (highly recommended)
Alcohol and specialty drinks ( with the exception of wine tasting on day 6)
Any extra tours, spa treatments, excursions that you choose during your free time if you choose to go.
Transportation & lodging outside of the retreat dates, should you choose to arrive early or stay later in Portugal.
Anything you buy in the markets or on various outings.
Personal tips and gratuities (hotel staff, maid service, etc)
Book with Confidence –  A note about Covid 19
We have a great team in place that is monitoring the global pandemic and travel advisories on a daily basis. In the event we need to cancel the retreat due to Covid 19, retreat participants will be offered the option of moving funds to a rescheduled departure date or a refund. We want you to feel fully comfortable and confident when booking that we have you covered!
* Please note that we will NOT be refunding cancellations for any other reason, including if you yourself contract covid before the retreat and can not attend. Due to the planning, logistics & upfront costs of these events, we have a strict no refund policy regardless of circumstance. We are requiring retreaters to get trip insurance for this very reason, trust us the peace of mind alone is worth it!
Absolutely!
All of our workshops and activities are for beginners and experienced artists alike!
! We'll provide you with creative prompts but you will be at your own pace and it's completely up to you how you'd like to use your art journal and creative time.
It is your responsibility to be up to date on what the visa requirements are for entering the country as well as whether you are required to be vaccinated/Covid Testing etc. Most countries require either proof of vaccination or a negative Covid test prior to entering. 
Yes! Upon receipt of your $750 non-refundable deposit, you may divide your remaining total into up to 2 separate payments. Total balance is due on or before February 7th, 2022.
Yes, travel insurance that covers covid related claims and medical coverage is required in order for you to attend the retreat.
That is completely up to you and depends on how much shopping you plan to do. ATMs are available to you and credit cards are taken at some major retailers.
Our accommodations for this retreat are as follows: Two of the rooms are single occupancy which will be given on a first-come first-served basis. The other 3 rooms are double occupancy with two twin beds per room. In the event you are traveling solo and book a shared room we will do our best to pair you up with someone we think you'll match well with.
Cute Story I met one of my besties and the co-host for this trip on an art retreat where we shared a room! Little did we know we only lived 20 minutes apart and we have been inseparable ever since!
Both of our accommodations provide a breakfast that has a nice selection of local meats, cheeses, jams, breads, fresh fruits, cereals, pastries, eggs, etc. 
Local Portuguese fare will be served at our cooking class. In Evora, we will have two Chef prepared meals that will highlight the region's local delicacies along with dinner in town one night which has many options including vegetarian meals.
Meals not included in the itinerary are a great chance to explore local restaurants. We really want to give you a taste of the country through its food, in most cases, we will have vegetarian options but unfortunately, severely restrictive diets and other food sensitivities can not be accommodated.
We have arranged group transportation to and from Lisbon International Airport.
When booking your flight please fly into Lisbon International Airport. We recommend booking your flights at least 90 days before the beginning of the retreat.
Weather in Lisbon will be pleasantly warm during the days with temperatures ranging in the '70s. Evenings can cool down and we'd recommend packing layers and a light jacket or cardigan. Evora tends to be a little warmer than the coast but lucky for us we'll have a pool to cool down in! Also both hotels have excellent air conditioning as does all our private transportation for this trip!
As with any European country, Portugal is best explored on foot. There will be lots of cobblestone streets so opt for comfortable shoes, sneakers, or sandals. For our day trip to Sintra, we'll be outdoors most of the day. Plan outfits that will work for exploring but will also be nice enough for a relaxed dinner in town. Layers are always a great idea!
The last thing we want is you having to lug a ton of supplies around so we'll send a minimal list of art supplies such as your favorite brushes, art journal, and watercolor set! We'll also include a simple packing list and tips a couple of months before the retreat.
We also recommend that you bring an extra bag (a collapsible duffel or tote works great) to bring home your goodies you have collected on our shopping trips. Portugal is known for its artisan and antique markets, so trust us you'll want the extra room to take back your one-of-a-kind finds! The temperatures will vary, so don't forget layers, pack a bathing suit, sweater, and a light jacket!
One of our main goals is to lift up our fellow female creatives! When we set out to create Wandering Women Retreats we thought about all the wonderful female artisans around the world. What's going on in their studio, what inspires them and how can we be inspired in return? Each of our retreats highlights a different woman artist with visits to her workspace and talks about her journey and creative process. 
From floral foragers to textile designers to mixed media painters we strive to spotlight a diverse group of female artisans. On each of our retreat pages, you'll find a bio for our featured female artist for that particular trip.
Still have questions? We got you!

Visit our

FAQ

page.
Interested in a custom retreat for you and your tribe? We can create custom private retreats for your group that is tailored to your interests. Unique experiences, boutique accommodations and off the beaten path locations are our speciality! Reach out through our contact page for more info!
Come Wander with Us!
Want to be the first to know about upcoming trips ?
Sign up for our newsletter,

SIGN-UP FOR THE LATEST INFO ON RETREATS AND GET EARLY ACCESS TO REGISTRATION AND MORE!